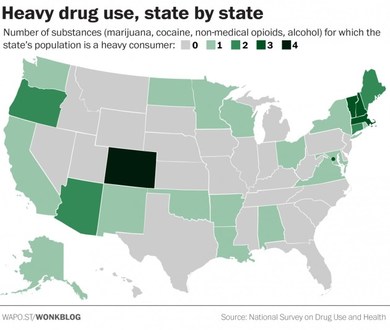 The Washington Post via The Denver Post
Colorado stands out as the only state which is a top consumer of all four substances [marijuana, cocaine, non-medical opiods, and alcohol]. The state's heavy consumption of marijuana is predictable given that the drug is legal there. The other three legalization states are heavy consumers of pot, too (Washington, Alaska and Oregon; the latter is also a leader in non-medical use of prescription opioids). But Colorado residents are also heavy consumers of all non-marijuana intoxicants as well.
http://www.denverpost.com/2016/05/23/colorado-first-in-drugs-survey/
​
---
What We Want:
a Comprehensive
Effectively Working Olmstead Plan
To bring Housing & Services to Scale to Meet the Needs
of People with Disabilities to avoid unnecessary institutionalization or great risk of institutionalization such as is inherent in homelessness
With Specific Measurable Goals
Copyright 2018 Orchid Mental Health Legal Advocacy of Colorado, Inc.
Web Hosting
by iPage